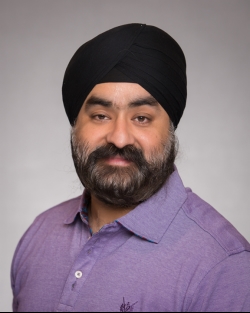 Case Studies: Charan Anand, FASTSIGNS Watford
In 2011, due to a family emergency, Charan made the difficult decision to relocate to the UK from his home of 18 years in LA. Having previously owned a successful PostNet franchise, Charan set about looking for similar franchise opportunities in the south of England. After meeting FASTSIGNS CEO, Catherine Monson at an exhibition Charan decided that the opportunities in the signage and graphics industry appealed greatly.
Charan Anand joined the FASTSIGNS® family in 2012, purchasing the Watford centre from the previous owner Dick Northcote. Having signed a contract with a large multi-national car-parts company and being awarded a European tender for the one of the largest online retailers, Charan has grown annual revenue of the centre 260% in the last 5 years.
What attracted you to the FASTSIGNS franchise model?
"Once I had made the decision to branch into the world of sign making I reviewed a few different signage franchises. FASTSIGNS ranked very highly as a franchisor, winning several awards for franchisee satisfaction and seemed to provide great support to their franchisees"
Did you have any prior experience in the signage industry?
"I knew a little bit through my previous companies, but my knowledge didn't extend very far. It was mainly sourcing banners and for sale signs through wholesalers, I didn't know a lot about materials or manufacturing"
Did you feel that the training provided prepared you to run the business?
"Absolutely! I received 4 weeks of hands on training. Two weeks at the FASTSIGNS designated training facility in Dallas, Texas,one week at a FASTSIGNS centre and one week in my centre once it was open. I received loads of help with my business and marketing plan and continue to receive full support from the Head Office team. FASTSIGNS also helps with product support and provides advice and training on buying and getting the most out of new equipment, including sending the American technical specialists over for training a few times a year."
What is the best thing about owning a FASTSIGNS centre?
"It makes me proud to be part of one of the world's best franchise networks. The support that I receive is outstanding, from hiring staff to training on new equipment. As a company we receive nationwide discounts from our suppliers and the chance to attend both the international and national FASTSIGNS annual convention. FASTSIGNS CEO Catherine Monson is a very inspirational person and has a brilliant mind for business, you always feel strengthened knowing that you are on the same team as such an accomplished woman."
What would your advice be to someone who is thinking of becoming a FASTSIGNS franchisee?
"Use due diligence and don't expect it to be easy work. The rewards both emotionally and financially can be huge but you need to be prepared to work hard and put the effort in. FASTSIGNS are very supportive in your decision making process and will provide you with all of the information that you need to ensure that you are 100% confident in your decision. They will also arrange visits to other centres so you can see what being a FASTSIGNS business owner is really like.'
Having experienced rapid growth over the last 5 years, Charan has recently invested in a new flatbed/hybrid printer and is relocating to larger premises to accommodate the work load. Charan says "I am very excited about the new contracts we are working on. The investment we have made, in addition to bolstering the team here at Watford will enable me to grow my business even further over the coming years. FASTSIGNS have helped me to develop my business, from a novice in this industry, to achieving record levels of revenue within 5 year period. Without their dedicated business support, this wouldn't have been possible."