Chris & Andy Simpson – Father and Son Franchise Owners of FASTSIGNS Leeds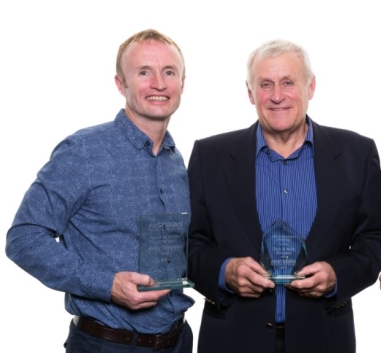 Chris and Andy Simpson have owned their FASTSIGNS franchise, located on York Road, Leeds for over 20 years. They have built a successful family business during that time and in this question and answer session they discuss how their relationship has evolved from a father and son dynamic to trusted business partners in the work place and how they have managed to retain their familial bond whilst away from the office.
How did you decide to open a FASTSIGNS franchise together?
Andy: I was 25 at the time and working full time in IT for an engineering company, Chris had been made redundant from his job as a director at a multinational company and had begun to research the franchise opportunities whilst looking for his next career move. Chris found the FASTSIGNS brand and began to look more closely at the realities of opening a franchise, at my age it felt like a fantastic chance for me to become a business owner, a chance that probably wouldn't have come along if I hadn't recognised the opportunity for what it was. I decided to join him on his FASTSIGNS journey.
Chris, how did you feel about the Partnership? Did you think it was a good idea or did you have any reservations?
Chris: I thought it was a really positive move for Andy to join me in the business all those years ago. One of the biggest pluses was having someone working alongside me who was as invested in the business as I was. I could trust Andy implicitly to continue to working towards our business goals if I was ever taken away from the business, it seemed like a great idea for him to join me then and it still is now!
20 years of being in business together, how has that impacted your father/son dynamic?
Andy: I think in the beginning it was tough for me to become attuned to a business relationship with Chris. When at work, I'm working with Chris and when I'm at home, I'm with my dad. Initially it was a challenge and took a little while for me to adjust to. 20 years down the line we've settled into our roles comfortably.
Chris: Over the years it has become easier and as the centre grew and we began taking on more staff it became easier for us to call each other by our first names. In the early days our father/son dynamic made any conflicts that we had a little more difficult to deal with, but these days we have both relaxed to our working relationship, we tackle issues as a team and do what is the best for our business.
Do you see each other more or less outside of work?
Andy: I have two boys now who play a lot of sport and Chris is a very supportive grandfather to them, so we see spend a lot of family time together surrounding their activities. We do try to leave work in the office and not let it eat into our home lives too much but it is sometimes easier for us to have meetings at home if we are business planning for example.
Your business also involves other members of your family, who are they and how do they contribute?
Chris: Our centre is really a family concern, we have five family members currently working in the centre; Catherine, my wife works in the centre on our marketing activity and inside sales, Andy's wife, Diane, does one day a week helping with admin, whilst my daughter Sarah does one day a week contacting our customers and organising our credit control. Last summer, we had 3 generations in the centre! Andy's 14 year old son spent his summer with us helping out, it's too early for us to say if he'll join us once he has finished school but it was great to have him there and see him getting involved in the business.
How do you split the business functions between yourselves?
Chris: In the early days it was quite difficult to split our roles, we both kept ourselves up to date with all areas of the business, as time has moved on we have naturally taken a keener interest in our respective areas of the business. I have become more focused on the financial side of our business whilst Andy has concentrated on the looking after our staff and the more creative areas of the work.
Andy, over the years what's the best piece of advice Chris has ever given you?
Andy: The best piece of advice that Chris has ever given me was to not grow too quickly and as a true Yorkshire man he has taught me to keep an eye on the financials. As the business grew, I wanted to take on new machinery so we could expand quickly. Chris was more cautious and wanted to wait, in hindsight the balance of our personalities has allowed our business to grow at a healthy and steady rate with me pushing for innovation and Chris has ensured we've done it at a rate we could afford.
Any final words that you would give to families who are thinking about opening a FASTSIGNS centre?
Chris: If you're going to open a centre as a father and son team, leave that relationship at the door and treat each other as equals when you're in the work place.
Andy: The benefit of having a family business within a larger concern like FASTSIGNS gives customers a sense of reassurance that they are getting a wealth of experience when purchasing from you but also they also receive a personable and local service.