Case Study: Mark Phelps
The sky is the limit for FASTSIGNS franchisee
FASTSIGNS Mark Phelps speaks about how his investment in his business will hugely increase sales and profitability.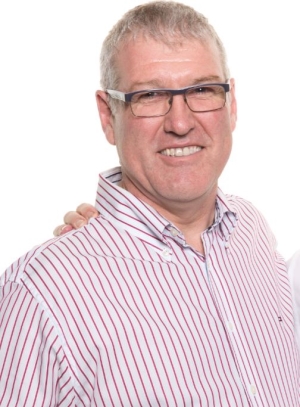 Following a long and hugely successful corporate career, an opportunity presented itself to make a life changing decision. Seizing the chance for voluntary redundancy from his project manager role with BG Group at age 42, Mark found himself looking for a fresh, new challenge. After considering many options, Mark decided to purchase an already established FASTSIGNS centre, located in Kingston upon Thames in November 2005. Mark says 'I considered several franchise options before deciding on FASTSIGNS. What drew me to the company was the franchise model. I liked the fact that I could run my own business, put my practical skills to work and oversee every aspect of production, from start to finish. Another attraction was that the business did not need a high personal investment in terms of time; I still had my evenings and weekends to myself to spend time with my family.'
Onwards and upwards.
In January 2016, after successfully owning and operating the FASTSIGNS Kingston upon Thames centre for 10 years, Mark renewed his franchise agreement for a further 10 years and decided to begin accelerating the growth of his business. 'The business had been ticking along nicely over the past 10 years.' Says Mark.' After signing up for a further 10 [years] with FASTSIGNS, the opportunity to lease the building next door became available. We were running out of room in our current building which was preventing us from reaching our maximum potential. So we expanded into the building next door, transforming our space from 1000 square feet to 2000 square feet.'
Mark then invested in high performance equipment such as a Zund cutter and an EFI LED Hybrid printer to enhance his range of products and services. 'Since we have invested in new equipment our profits have soared' said Mark. 'As we now have the opportunity to manufacture more products in house as opposed to out sourcing. We produce approximately 30% more goods in house, which has made a huge, positive impact on our turnover. Not only this, the new equipment has given us the opportunity to increase our range of products as we can now print on many more materials.'
Brexit.
After the announcement of the UK leaving the European Union in June 2016, Mark, like many other business owners, was concerned that this may have a negative impact upon his business. Mark reports that, exactly the opposite has actually happened, with his centre becoming even busier since the announcement. 'Brexit has not really affected us much at all. With the value of the pound dropping we did find that imported products became slightly more expensive, but that's to be expected. I was initially weary that business might slow down but it has done the opposite. August is generally one of our quieter times but we have found that sales have doubled year on year in 2016. I personally do not think that Brexit will affect the signage industry'.
What's next?
Mark is planning to spend the next few years training his staff to get the most out of the new equipment and growing his workforce to become a smooth operating team. Mark says 'Over the next 1-2 years I aim to get my team running like a finely tuned machine. I will develop my staffs' skills in order for them to get the most out of the new equipment and consolidate internal processes. After this I plan to hire additional outside sales people to support my sales team and may look to recruit a full time installer to free up my production team'.